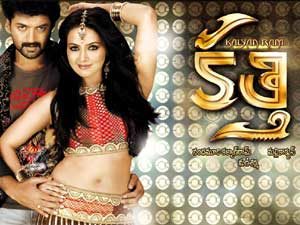 Kalyan Ram Kathi Review | Kalyan Ram Kathi Rating | Kalyan Ram Kathi Movie Review | Kalyan Ram Kathi Movie Rating | Kalyan Ram Kathi Trailer | Kalyan Ram Kathi songs Download | Download Kalyan Ram Kathi songs | Kalyan Ram Kathi movie details | Kalyan Ram Kathi watch online movie | Watch online Kalyan Ram Kathi movie | Online play Kalyan Ram Kathi movie
My Rating: 3.25/5
Banner: NTR Arts
Music: Mani Sharma
Cinematography: Sarvesh Murari
Fights: Ram Lakshman
Editing: Gowtam Raju
Producer: Nandamuri Kalyan Ram
Dialogues: M Ratnam
Story: Vakkantham Vamsi
Screenplay Direction: Mallikharjun
Cast: Kalyan Ram Nandamuri, Sana Khan, Shyam, Saranya Mohan, Kota Srinivasa Rao, Ahuti Prasad, Ajay, Sameer, Chandra Mohan, Brahmanandam, Dharmavarapu Subramanyam, Venu Madhav, Ramaraju, Raghu Karumanchi, Telangana Sakuntala etc
Release Date: 12th Nov 2010
Review
Story
Rama Krishna (Kalyan Ram Nandamuri) is a football player who aspires to play for national team. He lives in a joint family and bonds over well with his sister Haritha (Saranya Mohan). He protects her all the time. One sudden day she disappears. He searches for her finds out that she is married to a factionist from Rayalaseema. And she is in trouble. The rest of the story is all about how he sacrifices his aim of playing for nation so that he can save from her from her trouble.
Artists Performance:
Kalyan Ram has got two get-ups in the movie. He is normal in the first half and has a special get-up in the second half. Lot of appreciation should go to cinematographer Sarvesh Murari in bringing out starking variations between these two get-ups. Kalyan Rams dialogue delivery has improved by miles in this movie. And he is at ease in casual scenes and has impact-making presence in action episodes. Kalyan Ram is an honest actor and you can see his zeal to work hard towards it in this movie. Telugu Movie Reviews
Saranya Mohan suited the role very well and she is a nice actress. Sana Khan is beautiful in looks and she did adequately well. Shyam is nice as a guy with negative streaks. I loved the make-up of Kota, Telangana Sakuntala and Ajay in this movie. Kota is extremely good. Ajay looks menacing with a damaged eye. Raghu Karumanchi is an actor who is good at comedy and you can find him in most of the movies of Surender Reddy and NTR. He entertains with his typical Telangana dialect and funny face in this movie for a brief time. Ahuti Prasad, Chandra Mohan, Dharmavarapu and Telangana Sakuntala are adequate. Brahmanandam entertains in the second half with his cellphone comedy as swathi muthyam.
Technical Side:
It is a sister sentiment movie with ample action elements. The football player joint family sacrificing goal for family set-up seem to have resemblance to Chiranjeevis Vijetha. However, the story provided by Vakkantam Vamsi has a novel point in sister-sentiment thread. Screenplay of the movie is nice in the second half. Direction of the movie is decent though we expect the emotion to be more impact-making in scenes leading upto action episodes. Brahmanandams comedy and naa daivam photo episodes will give relief in second half which is laden with action and sentiment.
Cinematography by Sarvesh Murari is excellent (a part of the credit should also go to DI team). Dialogues by M Ratnam are big asset to the movie. Fights by Ram Lakshman are really good and chase episode of a SUV rotating in air is excellently conceived. However, climax scene of sword-piercing look unreal due to the excessive size of the sword. Most of the action sequences (chases and fight in the builders home) are good. Music by Mani Sharma is adequate. I liked Natu Kodi koora song (typical orchestration that is used in NBKs hits like Narasimha Naidu and Samarasimha Reddy). The movie is made with proper care in terms of production values and post production quality.
Final Analysis:
First half of the movie is adequate. The movie gets interesting from the kidnap episode. Second half is racy with lots of action episodes. The climax fight is too massy. The plus points of the movie are brand-new Kalyan Ram and technical values (dialogues, camera and fights). This movie is mainly aimed at female crowds (sentiment factor) and masses (action episodes and dialogues). Kathi is an adequate movie and the success will depend on how ladies and masses patronize it.