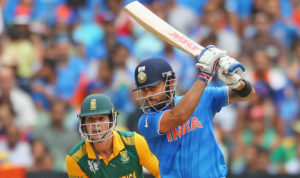 ind vs sa live telecast | India vs South Africa | India vs South Africa Live Score | IND Vs SA live | ind vs sa 4th odi score | India vs South Africa 4th ODI LIVE | India vs South Africa 4th odi | india vs south africa score a2znews.net
Buoyed by two consecutive victories, India has been eyeing ODI series win against South Africa in the 4th ODI here at Port Elizabeth on Friday.
India is on the verge of scripting history by clinching first ever series win in South Africa. India is leading the five match ODI series 2-1 at this moment.
However, injury blues are continued to hunt Team India as the skipper MS Dhoni hurt his ankle on Thursday during practice session. He is doubtful starter for todays match but team sources said that he is likely to play in the match.
Virender Sehwag, Gautam Gambhir, Sachin Tendulkar have already back to home due to injuries and Dhonis ouster may hamper Indias goal to win a series on South African soil after 19 years.
India has performed brilliantly in the South African series so far. The visitors managed to draw the Test series and won the only T20 game against Proteas.
In the absence of senior players, the young guns have performed brilliantly in the ODI series. After going 1-0 down in the series, Dhoni and his men fought back and took 2-1 lead.
South Africa Squad
GC Smith, HM Amla, J Botha, AB de Villiers, JP Duminy, F du Plessis, Imran Tahir, CA Ingram, M Morkel, WD Parnell, RJ Peterson, DW Steyn, LL Tsotsobe, MN van Wyk
India Squad
MS Dhoni, R Ashwin, PP Chawla, Harbhajan Singh, Z Khan, V Kohli, A Nehra, MM Patel, PA Patel, YK Pathan, SK Raina, I Sharma, RG Sharma, S Sreesanth, M Vijay, Yuvraj Singh